Message from Dr. Joe: Happy Chinese New Year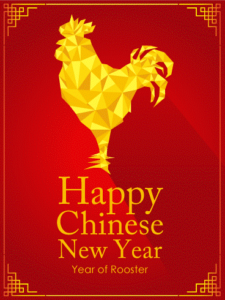 Chinese New Year is traditionally a celebration of conquering the evil dragon Nian using loud drums, firecrackers, red lanterns and hanging calligraphy scrolls.
The day marks the beginning of a new year of farm work and the start of new businesses with wishes for profit and success. Preparations include a thorough home cleaning to sweep away ill fortune and make way for incoming good luck. Millions visit family and hometowns during this week-long "Spring Festival".
The year 2017 is the year of the Rooster and those born in the year of the Rooster are reportedly honest but blunt, are ambitious, self-confident and love to dress up. These persons are typically actors, musicians, dancers, publicists and restauranteurs.
Wishing you and your family a Happy Chinese New Year and "Spring Festival".
Dr. Joe
Related Articles