Jurgielewicz Duck featured in Newsday
Thank you for the feature, Newsday!  Below is the review found in the Fine Dining section, written by Peter M. Gianotti.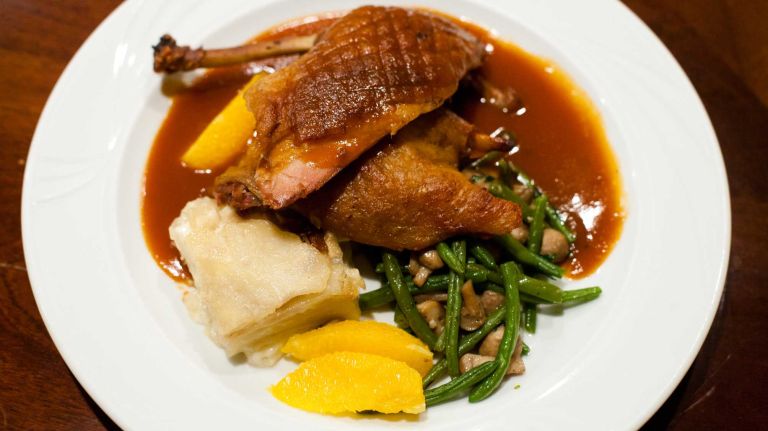 By PETER M. GIANOTTI
The French restaurant was devastated by fire last summer on the morning before Bastille Day. The kitchen reopened in February, on François Truffaut's birthday.
Le Soir's half-timbered look has been lightened and brightened. Gone are the dark-wood accents, outside and in. Now, it's all more spring-summer than autumn-winter, including the little vase with roses on each table.
What hasn't changed is the commitment. No other Long Island restaurant so loyally proclaims "Cuisine Française." Moreover, it's the hearty France of DeGaulle, not sporting the manicured nouvelleties of more recent decades. Most of it is very good. Yes, you'll find an obligatory pasta dish, but it's with duck confit.
Come to order chef Sebastien Margand's escargots, herbaceous, in garlic butter, served in a sizzling, dimpled plate. Onion soup gratinée, though more timid than bracing, will still any lingering late-night chill. The country pâté, coarse and livery, arrives with grainy mustard, cornichons and a taste of nostalgia.
Modest crabcakes are accompanied by better céleri rémoulade, or celery-root salad. Butter sauce complements the nutty poached bay scallops with tomato and spinach. Sauteed foie gras, paired with caramelized onions, brioche and "sauce barbecue," is a popular opener.
Soup and salad are included with the price of a main course, and on Tuesday, Wednesday, Thursday and Sunday, so's dessert. The salad is good and well dressed. The soup could be a mild-unto-underseasoned potato-leek production.
Compensate for any blandness with the lush mushroom-and-Calvados sauce that lifts braised veal sweetbreads. For more variety, Le Soir may have a special of calf's liver with bacon. If these aren't your favorite cuts, be assured that filet mignon Bordelaise remains an alternative.
Le Soir prepares cassoulet as a special, loaded with tender beans, rounds of kielbasa-style sausage and duck. It's different from the more traditional renditions, which usually stick with either pork, lamb or goose. But the dish is so rare on Long Island that the Bayport-Landaise version could make you rejoice simply for being there.
Roast Jurgielewicz Farm duck à l'orange is Le Soir's big bird, along with juicy, pan-roasted chicken. Fricassee of lobster with whiskey sauce is buttery but bashful. Sauteed filet of sole meunière is slightly overcooked.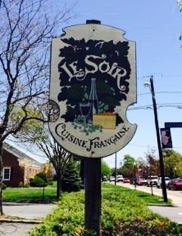 Floating island materializes shaped more like a bricklet than a cloud, and it's surprisingly dense. The tarte Tatin, or upside-down apple tart, however, is evocative and professionally caramelized; and the chocolate mousse, two scoops to stir memories.
Sometimes, making a reservation by phone can be a brusque experience. Once there, however, you'll find the style warm and friendly.
Welcome back. Or, to be precise, bon retour."
You can find Le Soir's updated menu on their website, featuring Canard de Long Island Rôti à l'Orange, Riz Sauvage (Slow Roasted Long Island Duck, Orange Sauce, Wild Rice).
Related Articles