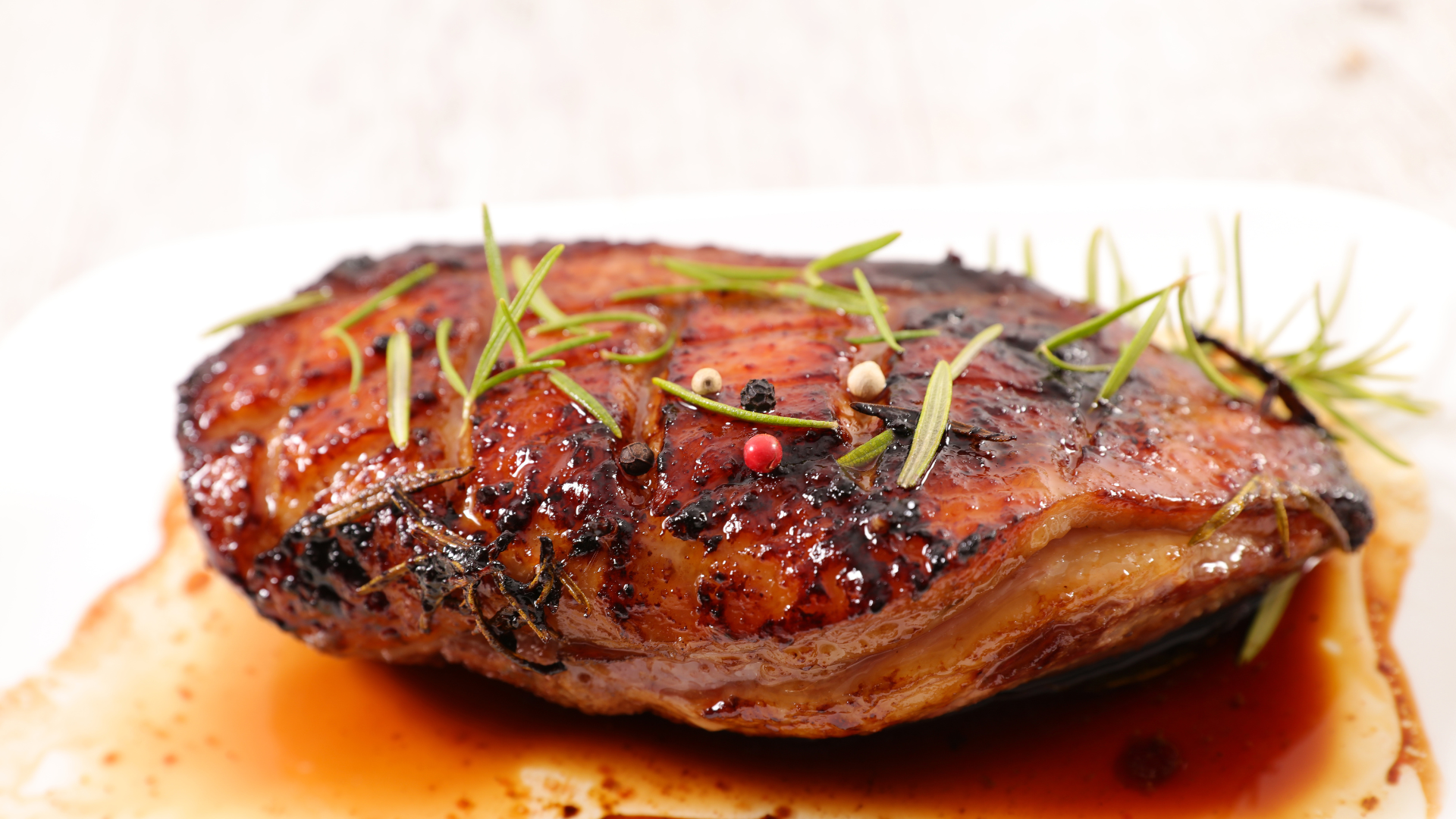 Pan-Seared Duck Breast with Red Wine Reduction Sauce
Ingredients
Salt and Pepper to taste
1 tablespoon olive oil
1 shallot, finely chopped
1 cup red wine (such as Merlot)
1/2 cup chicken or vegetable broth
2 tablespoons balsamic vinegar
2 tablespoons honey
2 sprigs of fresh thyme
1 tablespoon butter (optional, for added richness)
Directions
Enjoy this savory and succulent pan-seared duck breast with a delightful red wine reduction sauce. The rich and tender duck meat perfectly complements the flavorful sauce, making it a delightful gourmet meal!
Instructions:
Prepare the Duck Breasts:

Score the skin of the duck breasts in a cross-hatch pattern, being careful not to cut into the meat.

Season both sides of the duck breasts with salt and pepper.

Heat the Pan and Sear the Duck Breasts:

Heat olive oil in a skillet or frying pan over medium-high heat.

Once the pan is hot, add the duck breasts, skin side down. Cook for about 4-5 minutes until the skin is crispy and golden brown.

Flip the duck breasts and cook for an additional 2-3 minutes for medium-rare doneness or adjust the cooking time to your desired level of doneness.

Remove the duck breasts from the pan and set them aside on a plate, covering them with foil to keep warm.

Make the Red Wine Reduction Sauce:

In the same pan, add the chopped shallot and sauté over medium heat until it becomes soft and translucent, about 2-3 minutes.

Pour in the red wine and bring it to a simmer, scraping the bottom of the pan to release any browned bits (fond).

Add the chicken or vegetable broth, balsamic vinegar, honey, and fresh thyme sprigs to the pan. Stir to combine.

Simmer the Sauce:

Let the sauce simmer over medium heat until it reduces by about half, and it becomes slightly thickened and glossy. This may take around 10-15 minutes.

Add Butter (optional):

For an extra touch of richness, you can whisk in a tablespoon of butter into the sauce. This will add a velvety texture and flavor to the sauce.

Slice the Duck Breasts and Serve:

Remove the thyme sprigs from the sauce and discard them.

Slice the duck breasts diagonally into thin pieces.

Plate the duck slices, and drizzle the red wine reduction sauce over them.

Serve:

Serve the pan-seared duck breasts with red wine reduction sauce alongside your favorite side dishes. It pairs wonderfully with roasted potatoes, sautéed greens, or mashed sweet potatoes.