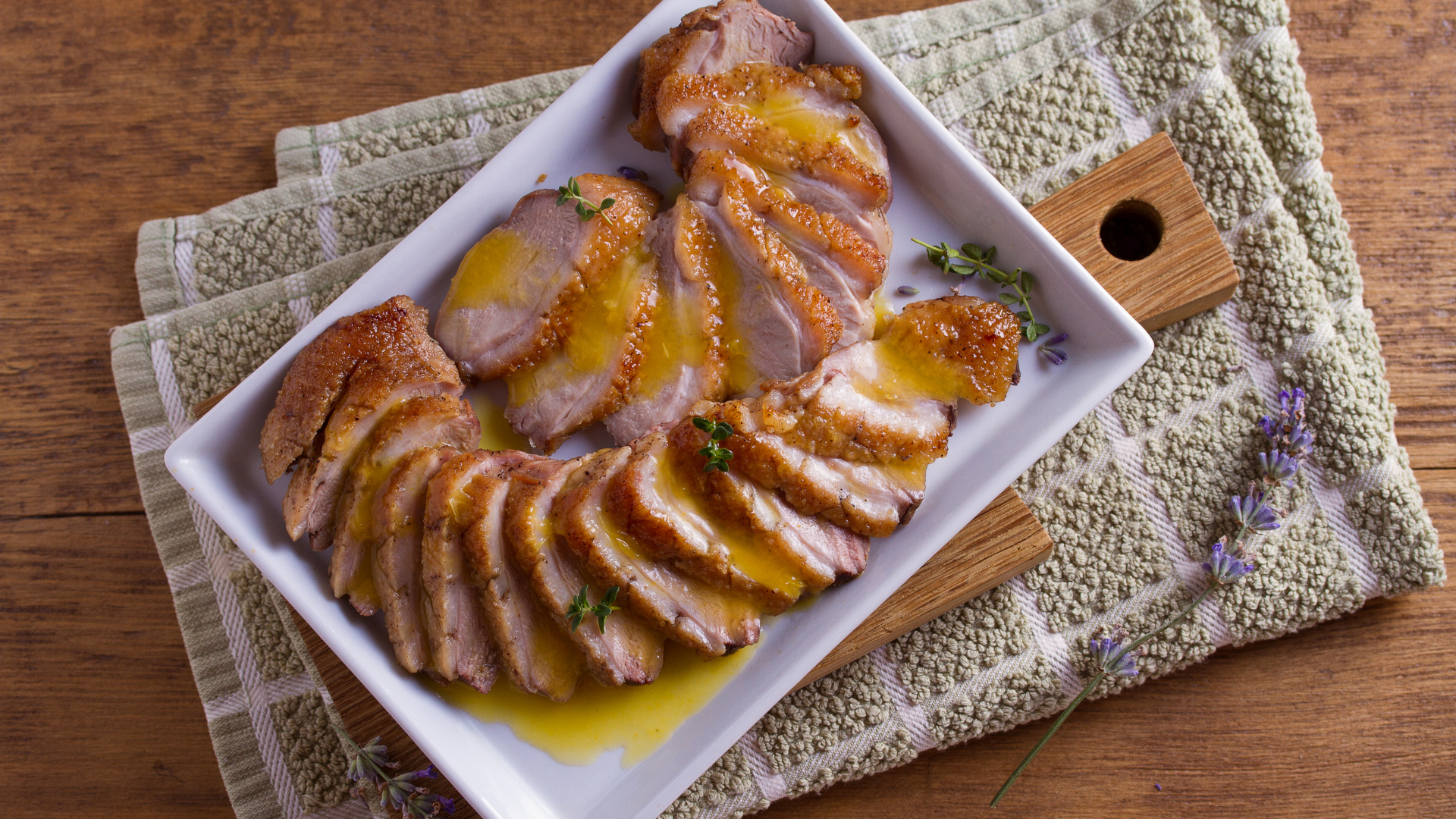 Pan-Seared Duck Breast with Orange Glaze
Ingredients
Salt and pepper to taste
1 tablespoon olive oil
1/4 cup orange juice
2 tablespoons honey
2 tablespoons soy sauce
1 teaspoon grated orange zest
2 cloves garlic, minced
1 tablespoon butter (optional, for added richness)
Directions
Enjoy your delicious pan-seared duck breasts with orange glaze! The combination of tender duck meat with the sweet and tangy glaze makes for an impressive and satisfying meal.
Prepare the Duck Breasts:

Score the skin of the duck breasts in a cross-hatch pattern, being careful not to cut into the meat.

Season both sides of the duck breasts with salt and pepper.

Make the Orange Glaze:

In a small bowl, whisk together the orange juice, honey, soy sauce, grated orange zest, and minced garlic until well combined.

Cook the Duck Breasts:

Heat olive oil in a skillet or frying pan over medium-high heat.

Once the pan is hot, add the duck breasts, skin side down. Cook for about 4-5 minutes until the skin is crispy and golden brown.

Flip the duck breasts and cook for an additional 2-3 minutes for medium-rare doneness or adjust the cooking time to your desired level of doneness.

Add the Orange Glaze:

Reduce the heat to medium-low and pour the orange glaze over the duck breasts in the pan.

Let the glaze simmer and coat the duck breasts for about 1-2 minutes, allowing the flavors to meld together.

If desired, add a tablespoon of butter to the pan and swirl it around to make the glaze even richer and more velvety.

Rest and Serve:

Remove the duck breasts from the pan and let them rest for a few minutes before slicing.

Slice the duck breasts diagonally into thin pieces and drizzle the remaining glaze from the pan over the slices.

Serve:

Serve the pan-seared duck breasts with your choice of side dishes. It goes wonderfully with roasted vegetables, wild rice, or a fresh green salad.