Chef Philippe Reynaud: Ocean Reef Club
The Senior Director of Culinary and Executive Chef of the exclusive Ocean Reef Club in Key Largo, FL, chats with us about his experience
Where were you born and what was your childhood like?
I was born and raised in Cannes, France. Every year from April to October Mom & Dad operated a Restaurant-Bar on a sandy beach there. I was very fond of helping mom in the kitchen during my summer breaks, but did play a lot as well!
How long have you been a chef?
I started cooking and earning a check at the age of 16 (1976) so a few years ago… never looked back nor felt cooking wasn't for me.
I still love cooking and being challenged.
How did you get into cooking?
Back then kids with ADD were called impulsive, disruptive, unfocused, I really couldn't sit still… My grades were terrible except for art, science, history, geography and PE. I had no choice but to join the work force at age 16. Soon after my 16th birthday, May 1976, I took on a 3 year culinary apprenticeship at the Casino of Cannes, France. I have never left the culinary field since.
Who has most influenced you?
The Casino of Cannes Executive Chef was my first big influence; he was well respected by his large brigade of cooks & chefs. He rotated me through each cooking station (Broiler, Fryer, Sauté, Vegetables, Pastry, Garde Manger (Cold Kitchen). Six months at a time. This is where I developed the foundation of my culinary knowledge. I then developed a sense of self-learning by reading a lot of the cookbooks I have, challenging and always pushing myself to attain better results.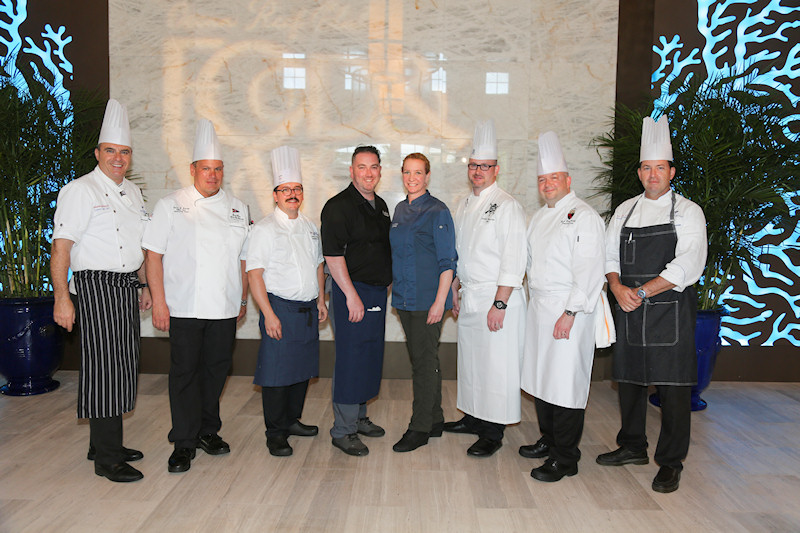 What has your education and career path been like?
Got my formal education from several great public School in Cannes, all the way to Junior High School at 16 years old.
1976-79: Became an apprentice Cook, Casino Municipal of Cannes France, then 3 years later I graduated from Nice Culinary Academy, BA equivalent in French Classic Cookery
1979-81: Influenced by my best friends, together we enrolled in the French Military forces, and after a 5 months of Special training was flown to Djibouti, Africa. I left the Armed Forces as a Corporal in the Marine Infantry. In the fall of 1981 I flew to Las Vegas for a few weeks vacation, and ended up helping a friend back in his Los Angeles French restaurant.
1982: A few months later the luxurious Westwood Marquis Hotel in Los Angeles offered me a cook position to start, two years later I was promoted to Executive Chef.
1989: I left the Westwood Marquis Hotel to open the exclusive Sherwood Country Club in Thousand Oaks California. This was my first taste of working in a Private Club.
1991: Left Sherwood Country Club to work as the Executive Chef at the famous Stein Eriksen Lodge in Deer Valley Utah for the winter.
1992: Started as Executive Chef at the Jonathan Club and stayed there until 2000.
2000: Begun the longest employment of my career at Ocean Reef Club, and still LOVE IT!!!   
How would you describe your club?
There are no single words to describe Ocean Reef Club. We are the tip of the spear of the Club Industry. Ocean Reef Club offers "a very unique way of life" for its members, and a "very unique place to work" for its associates. We have over 16 Restaurants and Lounges, serving food, a commissary, Banquet Kitchen, Baking & Pastry production Kitchen, and a cafeteria that feeds 700+ daily.
What do you like most about your job?
I LOVE the variety of food we produce, from member's event themed dinners to Food & Wine festivals; we host many guest chefs as well, to do recipe demos or wine pairing dinners. The variety of cooking is enormous.
I personally love interacting with the many members I know since being here for the past 19 years.
What is the most challenging part of your job?
When working in a tower hotel with multiple restaurants outlets and banquet rooms, elevators and hallways are the Chef's best friend. Ocean Reef Club sits on 2,000 acres, and is the opposite of a vertical building. Our restaurants are all spread out and our banquet production kitchens are away from ballrooms, most of our banquet foods are taken to locations via vehicles.    
What does it take to become a great chef?
Becoming a Chef starts by having a boundless love and passion for food. Then you need to be able to work long hours, holidays, and work with others. This crucial first few years will carry the apprentice through some of the toughest period of developing their skills. Once the apprentice becomes an assertive cook, he or she shall continue to work with reputable chefs and learn from their success. A great chef must be a good teacher & a mentor, he or she must be extremely well organized and be able to deliver consistently delicious food in a timely manner to all patrons no matter how hard it is.
And to do it again the next day and the next.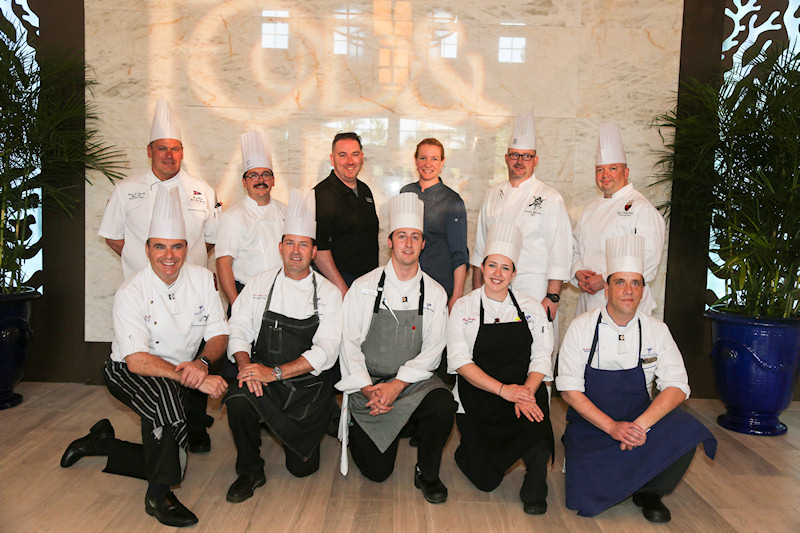 What is your favorite meal?
I love a good taco, Chef Robuchon's mashed potatoes are definitely at the top, Shepard's Pie makes the list for comfort food, I love Sushi as well, Hazelnut and Pistachio ice cream, or Nutella by the spoon! I love a good butternut squash ravioli, too, and gourmet food as well in elegant restaurants.      
What do you do in your free time?
Spend time with my wife and daughter to catch-up on each other and try to have quality time together. My work consumes my days, my thoughts, my skills are put to the test, I'm always "on stage" performing one way or the other.
To continue to stay positive with high energy, I need to find strength during my time off and my house is my ground. 
Why is Jurgielewicz Duck a must have on your menu?
Our Club members are very fond of the Jurgielewicz white Long Island Ducks. I love using the Jurgielewicz Ducks, they are plump and very tasty. We prepare them in many ways; Peking style or we confit the legs (cook them in their own fat) or smoke the breast, or use them in Stir-fry. Great product in general and always fresh and perfectly clean. 
Thank you, Chef Philippe, for taking the time out of your busy schedule to tell us a little bit more about you!
Related Articles