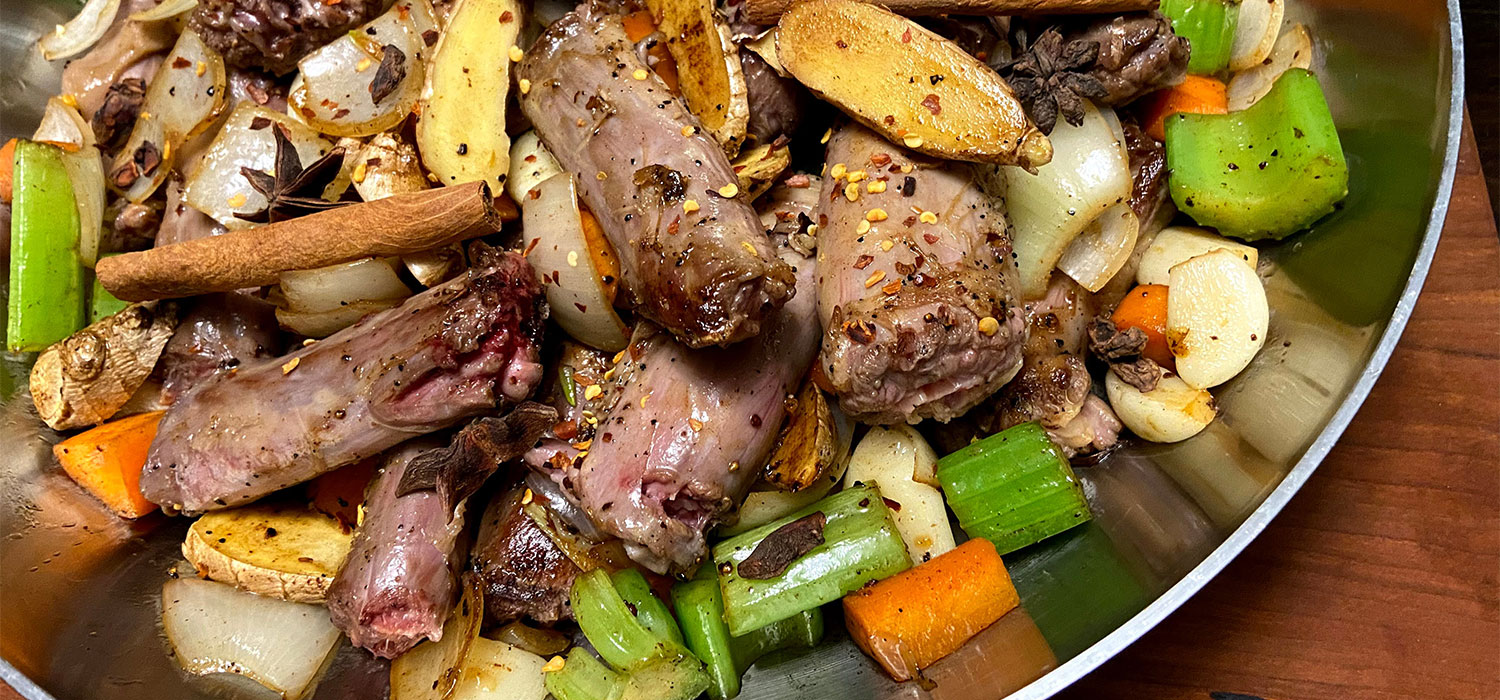 Five Spice Braised Duck Necks with Mandarin Orange, Chili & Sesame
Ingredients
Duck
Kosher salt & ground black pepper
2oz Vegetable oil
¼ cup five spice powder
1 carrot, peeled, rough chopped
1 medium onion, chopped
1 stalk celery, rough chopped
4 garlic cloves
3 inch piece of ginger, sliced
1 cup cognac or brandy
¼ cup Chinese Black Vinegar, Rice Vinegar or sherry vinegar
½ cup dark brown sugar
1qts duck stock or chicken stock
2 mandarin oranges, zest removed & quartered (save zest for later)
2 scallions chopped for garnish
½ cup cilantro leaves for garnish
Spice Mix
2tbsp toasted sesame seeds
1tbs Sichuan chili flake or red pepper flakes
1tbs Mandarin orange zest
1tsp five spice powder
Directions
Mix together loose ingredients
Braise
Evenly coat the duck necks with salt, pepper and five spice powder. Heat the oil in a heavy bottom pan to high and sear duck necks on both sides. When golden brown remove and place in a shallow braising pan. To the pot add the vegetables and sauté on medium heat for 5-8 minutes stirring frequently until they start to soften. Next add the cognac and bring to a boil, reduce until almost completely dry then add the sugar and vinegar. Bring to a boil then add the duck stock, bring to a boil and pour the entire mixture over the seared duck necks. To this pan add the oranges. Cover pan tightly with foil or a tight fitting lid and place into a 325°F oven. Cook in oven to 2 hours. Uncover and take each neck out and set aside. Strain and discard the solids saving the braising liquid.
To finish
Reduce the braising liquid until reduced by ¾ in a wide pan, add the necks and continue to reduce the liquid until the necks are glazed and sticky. Sprinkle the spice mix over the necks, toss to coat and serve
Garnish with chopped scallions and cilantro leaves and serve with steamed rice.