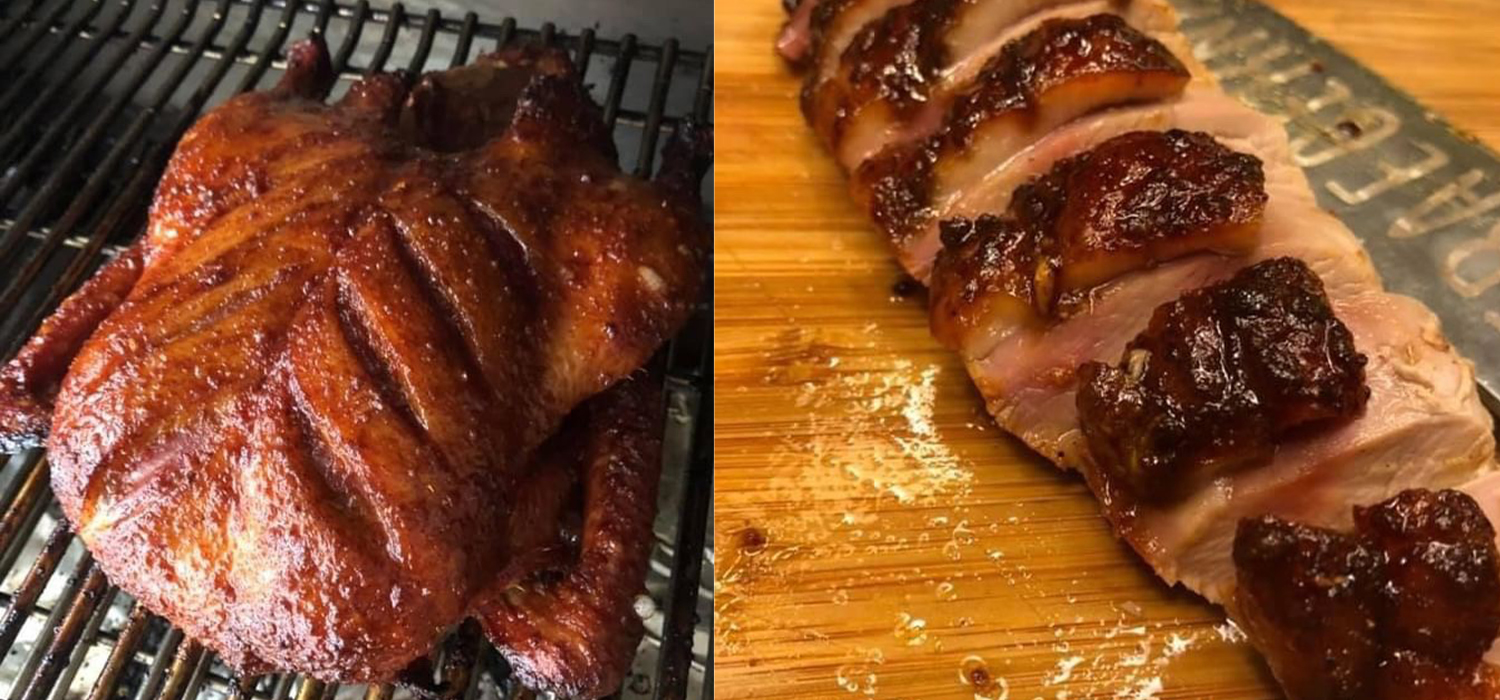 Crispy Whole Duck
Ingredients
Duck
1 tsp table salt
1 tsp baking powder
Marinade
4 tbsp soy sauce (low sodium)
2 tbsp Mirin
1 tbsp pure sesame oil
1 tbsp peanut oil
1/3 cup honey
1 heaping tbsp garlic paste
1 tbsp ginger paste
2 tsp Annatto powder
1/2 tsp 5 spice powder
Cavity Stuffing
2.5-3" piece ginger peeled & sliced
1 tsp 5 spice powder
Directions
Day 1:
Take thawed duck out of packaging.
Rinse and dry duck completely.
Place on a cookie sheet uncovered lined with a couple layers of paper towels.
Put in fridge overnight.
Day 2:
Run a gloved hand between the breast meat and the skin separating them.
Dry duck again.
Replace paper towels.
Place in fridge overnight.
Day 3:
Mix baking powder and salt together.
Make slits in duck breast skin.
Sprinkle over entire duck.
Place duck on mesh baking rack onto a baking sheet.
Place in fridge overnight.
Day 4:
Mix ingredients for marinade together.
Slather 1/4 of it all over duck.
Place in fridge for 3-4 hours.
Just prior to grilling pierce duck all over with the tip of a knife or a Thermapen and place ginger in cavity. This will allow a lot of the excess fat to render out.
Preheat grill to 250F.
Slather duck with marinate again.
Place duck directly on grill tucking wings behind the breasts.
After 1 1/2 hours slather duck with remaining marinade and increase grill temp to 350F.
Grill for an additional hour or until the breast registers 165F.
Check every 15 minutes.
When duck is done it should be very dark red and dry to the touch.